Listening to a guest speaker and participating in ensuing discussions can be an invaluable part of education. Guest lecturers help in opening up student's eyes to job prospects which they might have never imagined before. We at IIMT Engineering College invite experts to deliver guest lecturers on a regular basis. This is a great opportunity for networking too.
An eminent Techno Commercial Professional with 36 years of experience in Operations Management. He also has expertise in Green field manufacturing projects, Supply chain & Quality management,, Business Development, Engineering & Manufacturing activities. He has handled important portfolios like Budgeting, Cost compression as well as P&L responsibilities too. Besides this he also excels in manufacturing excellence programs, Contract manufacturing, Change management & Compliance with international level Social, Ethical & Safety standards. A thorough professional having command over 5-S, KAIZEN & DMW, He is a team leader possessing excellent communication & interpersonal skills. He guided students by giving life examples & gave an impressive presentation on Time Management.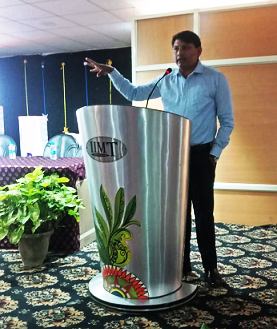 A HR professional having 15 years of experience across various industries like Steel, Power, Mining, FMCG & IT. This exposure created a passion for HR & awareness of the growing need for customizable HR solutions. He is a certified Rewards professional by the AON Hewitt, a master's Degree in Personnel Management with concentration in Human Resources. His HR experience spans multiple HR disciplines, Work place conflict resolution, Employee relations, Talent management, Performance management, Work force planning, Leadership development & coaching. In his deliberation he touched various aspects critical for Career building & Professional as well Personal life.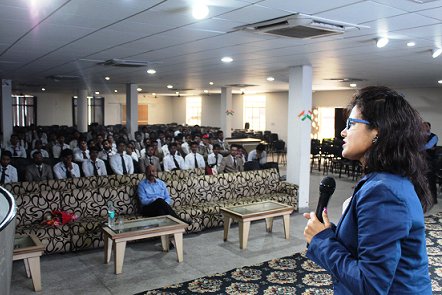 Avni Bhandari, one of our International Alumni is arriving at IIMT University, Meerut on Monday, 19/11/18. After the completion of Bachelors of Technology in 2008-2012 from Electronics & Communications branch, she moved to the corporate world. As a Software Engineer by profession she has been in Frankfurt,Germany from January 2017 - September 2018 for Eurex Clearing in Genpact. At present she is working in Genpact Noida, Headstrong Capital Markets as a Calypso Developer.